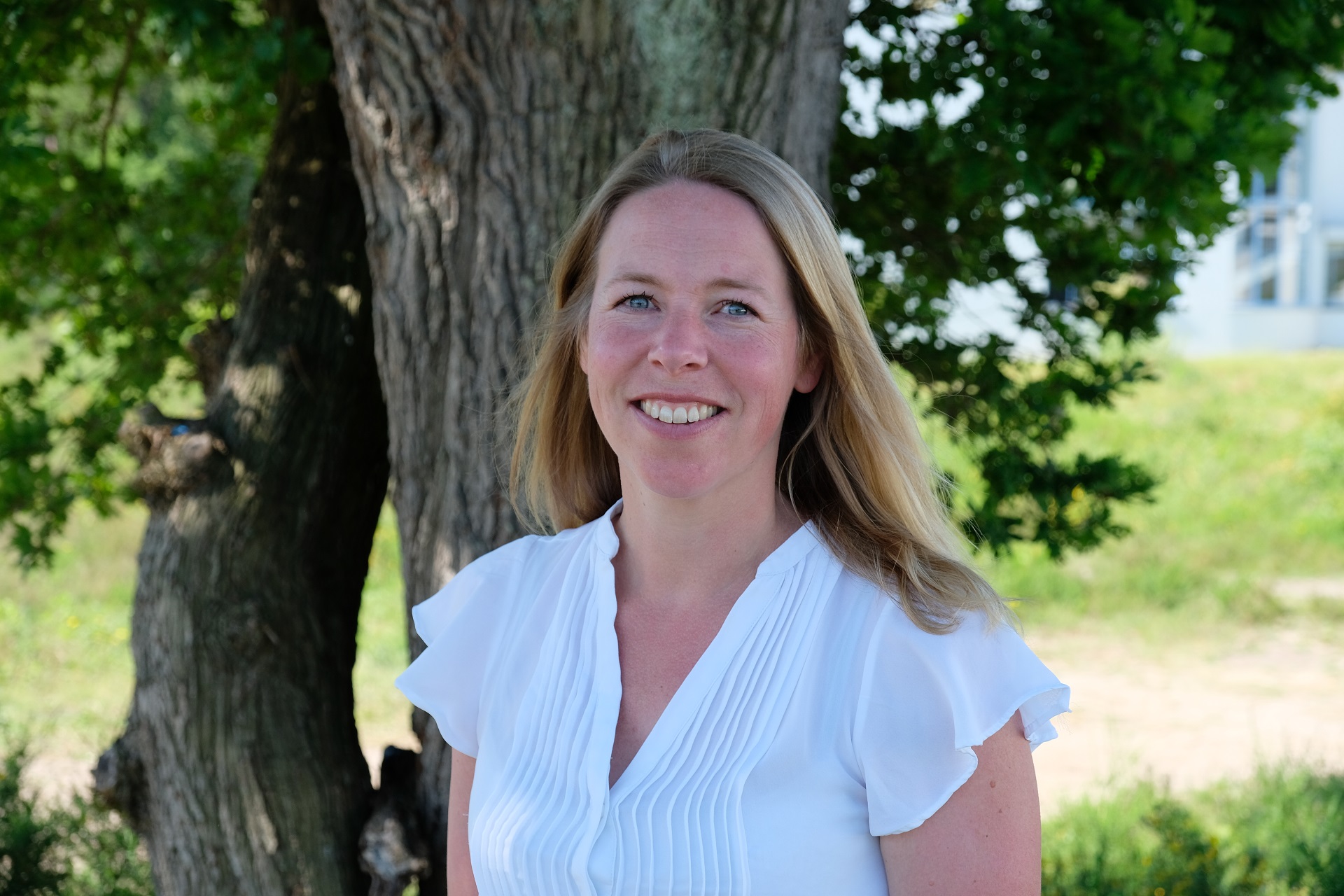 Miriam works as Real Estate Investment Manager
The substantial growth mandate combined with being involved in building up a new team from an early stage, makes the position very attractive.
'It's an interesting exercise to set up a whole new team and product'
Miriam (39) Wijnands decided – after a career as an equity analyst on the stock exchange and a management position at an American investment firm – to take a new step in her career. As Real Estate Investment manager at the new Investment Office, which started on 1 July 2021, she is part of the team that manages the real estate portfolio of Athora Netherlands.
This Mortgages & Real Estate department has an ambitious growth ambition for the coming years, Miriam explains. "The substantial growth mandate combined with building up the team, in which I am involved from an early stage, makes the position very attractive to me."
Miriam's role focuses on finding the right investments in the real estate market, which is undergoing enormous changes, partly due to Corona. Do you go for residential property, logistics property or retail or office property and what type? What risks are involved? How can we best substantiate and institutionalise this? Miriam deals with these questions on a daily basis. "If you buy something with a certain profit expectation, it is bound to come true. We have to invest our customers' premiums as well, as carefully and as sustainably as possible. After all, it is from those proceeds that the policyholders are paid. It is an interesting exercise to set up a completely new team and product, to help shape the department's new policy and to communicate it to the outside world."
Appealing Projects
In expanding the real estate portfolio of Athora Netherlands, Miriam has increasingly set her sights on investments throughout Europe, but at the Investment Office in the Netherlands they are also working on a number of appealing projects. "Last year, for example, we bought two residential projects in Arnhem and Groningen. These are two sustainable residential towers with, on average, somewhat smaller but affordable independent living units for young professionals. Such a building is equipped with shared facilities such as electric cars, a laundry room, a living room and roof terrace where you can meet each other and a communal area for working. Such new form of housing for the younger generation contributes in several ways. It is a great piece of innovation, which responds to the trend that the younger generation cares less and less about owning their own property. In addition, we are helping to find a long-term solution for the housing shortage among the younger generations. On top of that, it provides an excellent return, while being a safe investment. When those things come together, it's very satisfying. It fits well with the long-term vision of an insurer and our sustainability goals."
Sustainability and ESG-criteria always play a role for Miriam and her colleagues when looking at new investment opportunities. "We pay close attention to whether the buildings we invest in pass the sustainability test. Users are increasingly asking for this. Another good example in that context is a piece of agricultural land that we have in our portfolio near Schiphol Airport. We are now investigating the possibilities for constructing a solar meadow there. This is how we are contributing to the energy transition, without inconveniencing people, while the return on this land is much higher than if it were to remain in use as agricultural land."
More Women in the Profession?
Miriam is one of the few women working in the traditional male stronghold of investment management. More women in the department would certainly be welcome. "The differences between men and women are not so relevant to me, it's more about the person. After my Business Administration studies, I rolled onto the trading floor by chance. I was interested in fundamental investing and combined with my competences the stock market and I turned out to be a good match. I find it very interesting to look at financial markets and what impact they have on developments in the rest of the world. It is originally a man's world, although that is changing a little. It would be nice if more women chose the profession."
Miriam herself combines her job with caring for four young children. And although that has its advantages for the family, she longs to meet her colleagues in real life. "I'm really looking forward to going back to the office. That gives more focus." And how does she experience the work-life balance? "Some people need more time for themselves than others. If the work has to be done, it has to be done."
In Search of New Talent
The new Investment Office is still looking for new talent. Miriam explains what requirements her future colleagues must meet. "Analytical, results-oriented, no-nonsense, focused and pragmatic, those are the qualities we are looking for. With us, you get a very diverse job, in which you can use both your commercial qualities, your legal knowledge and your financial and analytical insight. In which you also help to build an entirely new team. That makes the job fascinating and was for me the reason that I started working at Athora."